There are currently 0 weather warning/s or advisories in force
Details of any warnings/advisories will appear below when issued.
Issued By: Isle of Wight Weather Centre
Date Issued:
Valid Until:
Type of Advisory:
Advisory detail:
Updated: Saturday 15th February. 15:00z
This Weather Warning will be
updated over the coming days and or hours.
This Weather Warning may be upgraded at any time!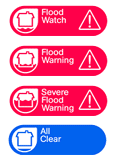 Alerts?
The Weather centre forecast team will issue watches and alerts whenever the weather is likely to meet a set out criteria. Watches are issued, usually in advance of warnings to give an indication that severe weather is possible. Once within a more certain timeframe, if necessary, a warning will be issued. At the closest range, flash alerts may be issued to warn of severe weather that may occur within a few hours.
The public are advised to take extra care and to keep up to date with the latest forecasts. This Weather Warning may be updated or upgraded in the coming hours or days. In the event of Severe Weather affecting the Island we will issue a "Flash Weather Warning" as early as possible. Be prepared, see the Severe Weather Guides below.