Stay up to date with the latest situation and advice. That includes annoucments from the Weather Centre.
Forecasting floods depends on the type and nature of the events which trigger them. Short periods of intense rainfall can cause flash flooding, longer periods of widespread heavy rain can cause rivers to overflow and storm surges can cause coastal flooding.
The Environment Agency (EA) and local authorities share responsibility for providing advice and information to the public during flood emergencies and can be contacted 24 hours a day via a dedicated Floodline number.
Floodline 0845 988 1188
Make sure you know what to do!


Before the flood
Move valuable items, including important documents, to high levels.
Bring indoors items which may cause damage or be damaged.
Ensure you have bottles of drinking water in case the water supply becomes contaminated.
Your local council may be able to supply sand bags. Remember that water can enter the house through whatever means it normally leaves the house.


During the flood
Never try to drive through flood water — 80% of flood deaths occur in vehicles.
Avoid walking through flood water, streams or rivers in full flow — just six inches of rapidly moving water can knock a person over.
If you have to evacuate your home or workplace turn off those utilities you can access.
Avoid driving unless you journey is absolutely necessary.


After the flood
Check structural damage to buildings.
If it is dark, use a torch, not candles.
Throw away all foods, including canned goods, which have come into contact with flood water.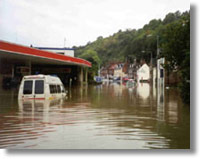 © Crown Copyright 2018, Met Office